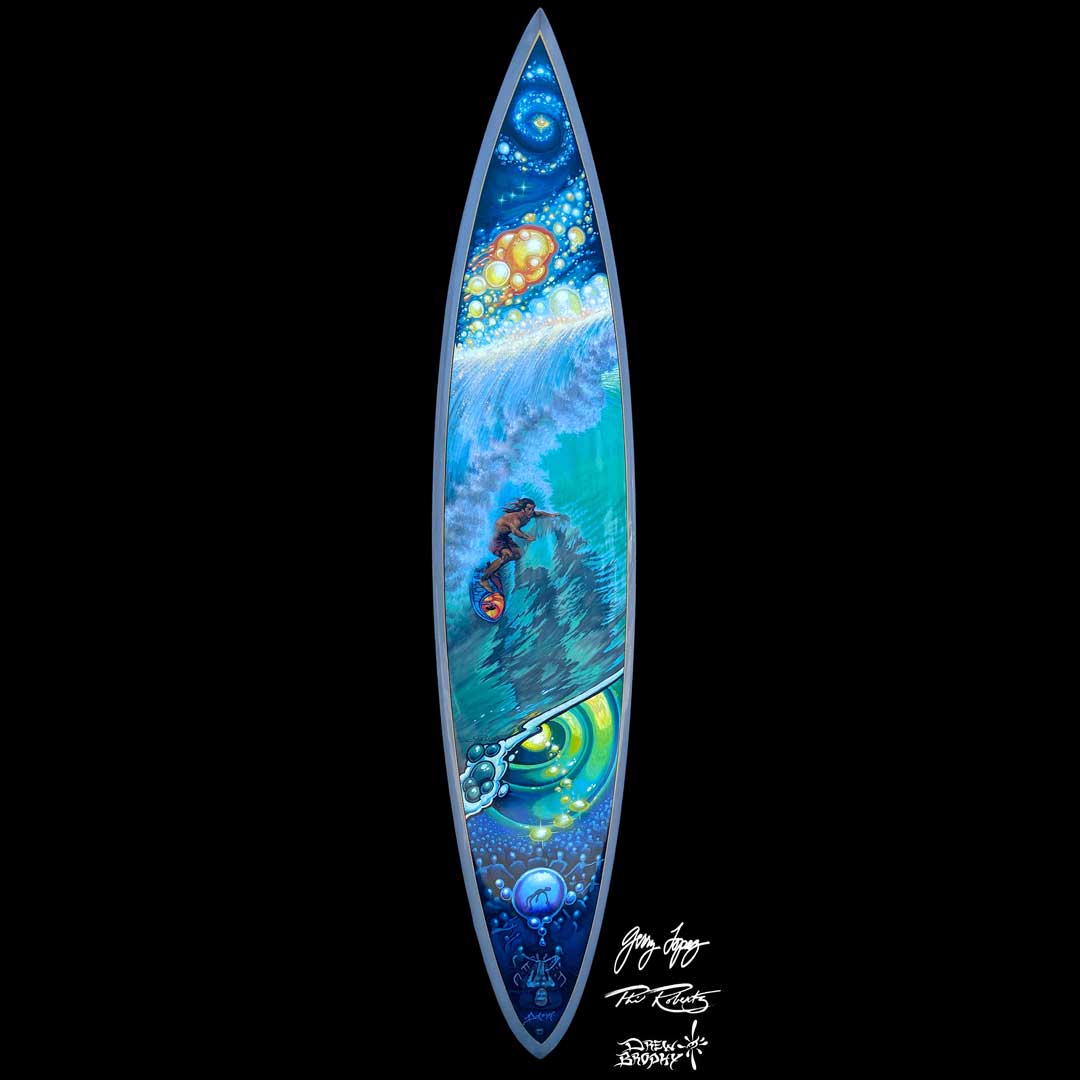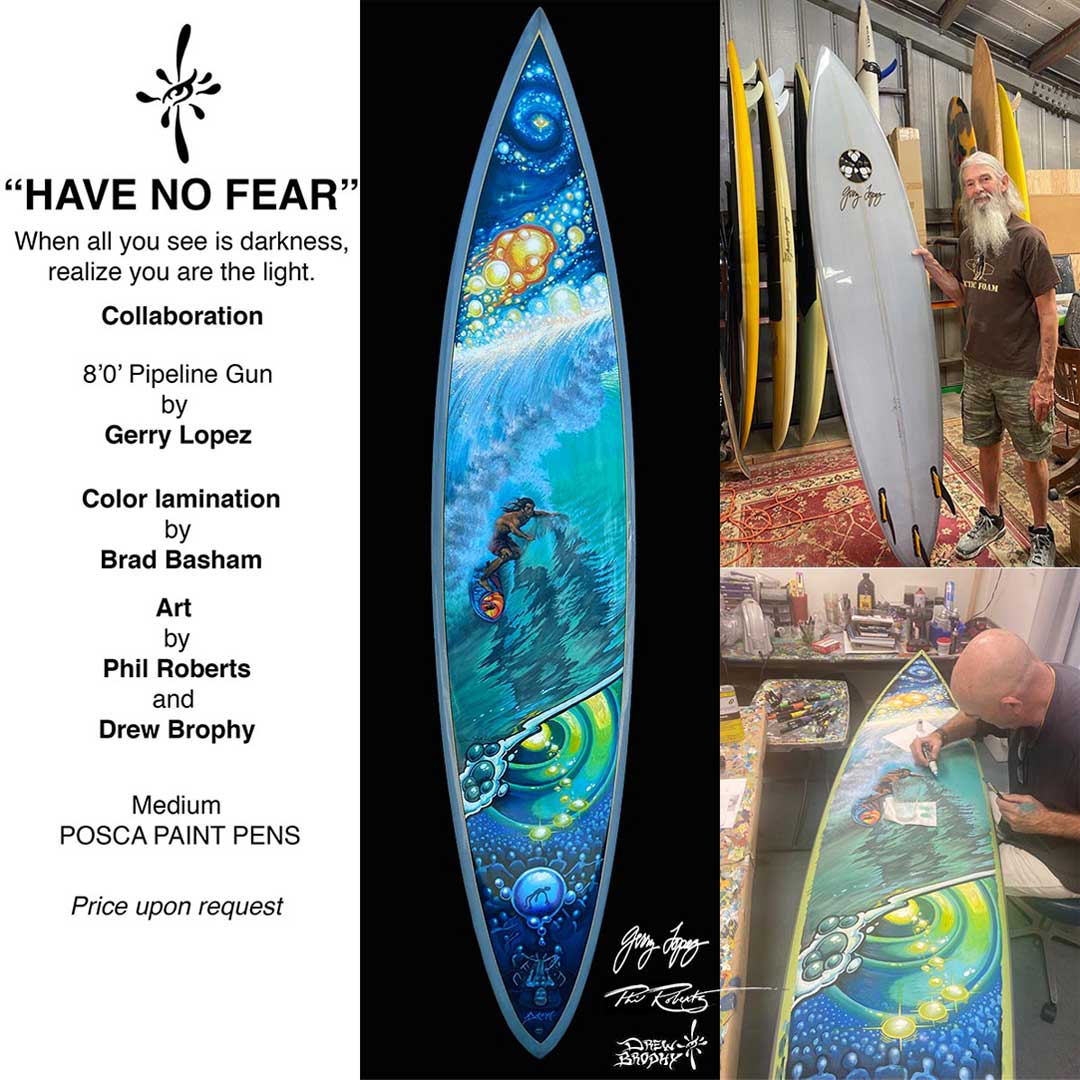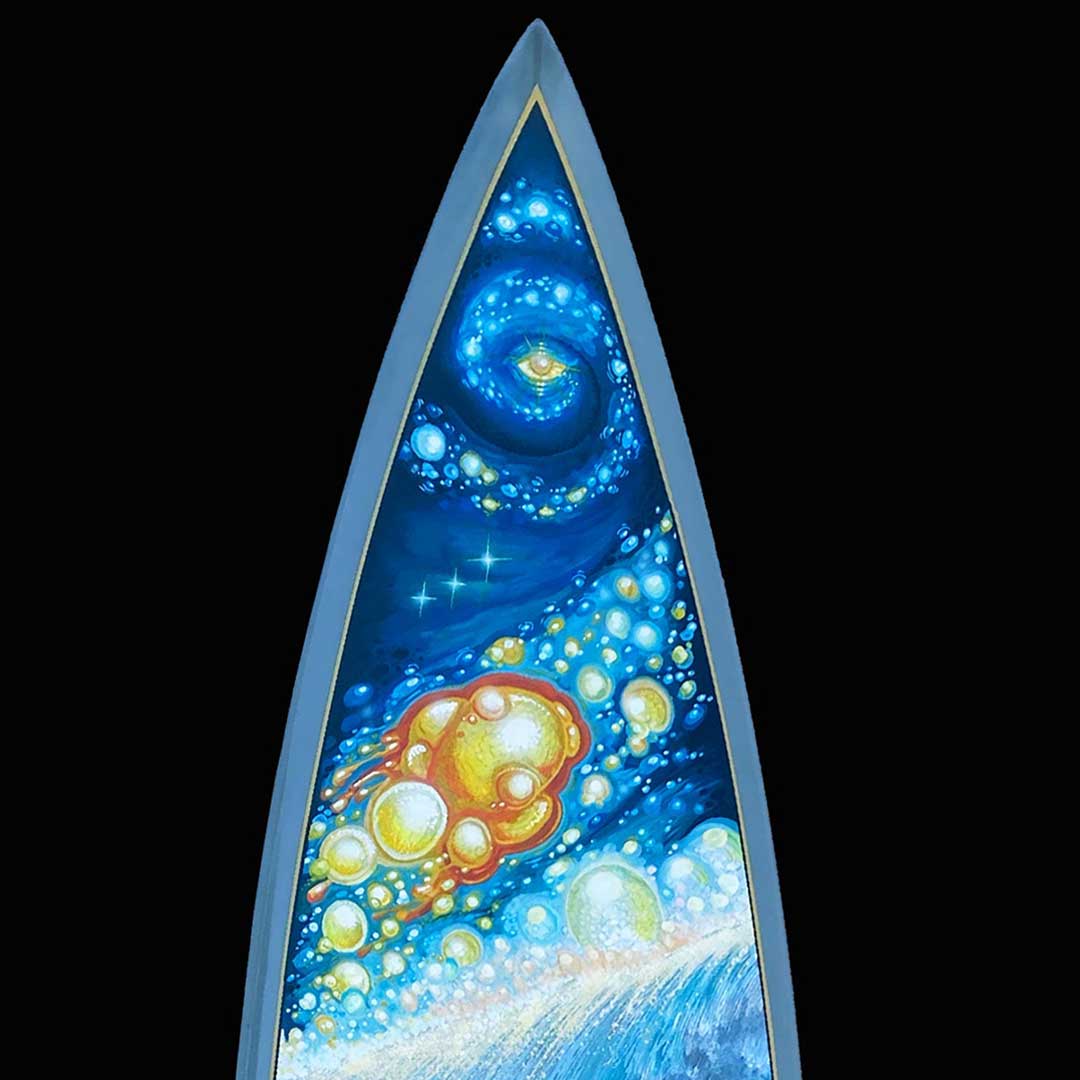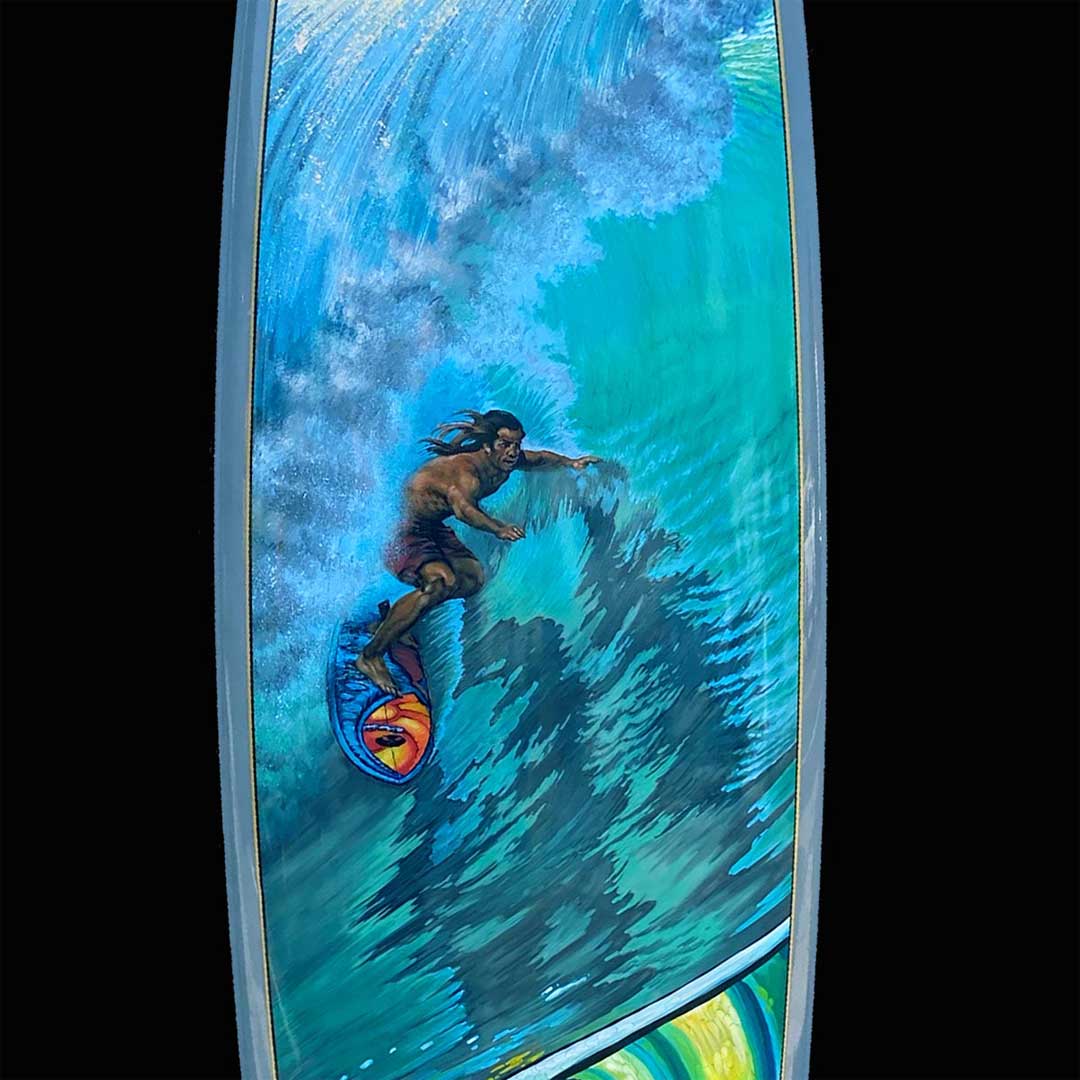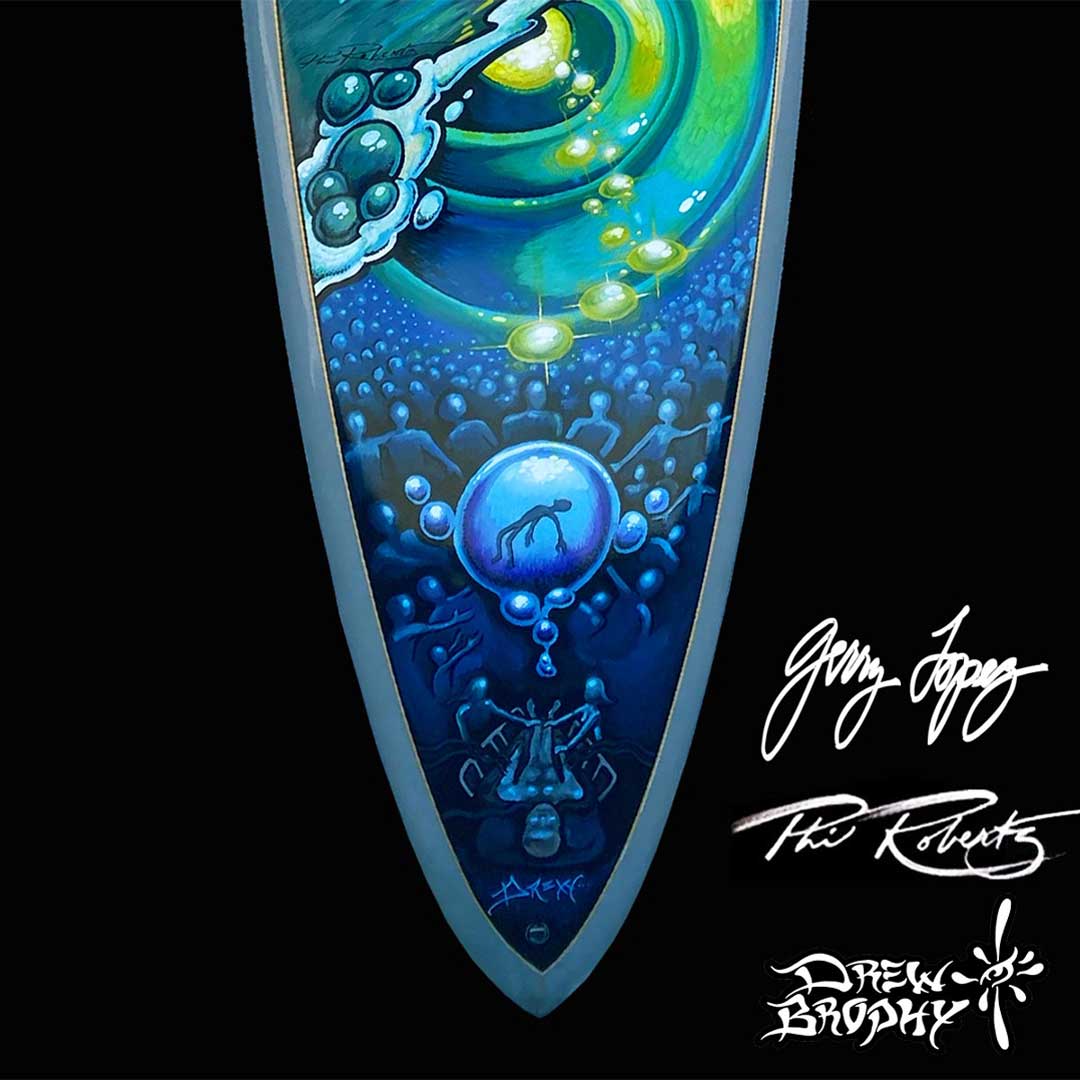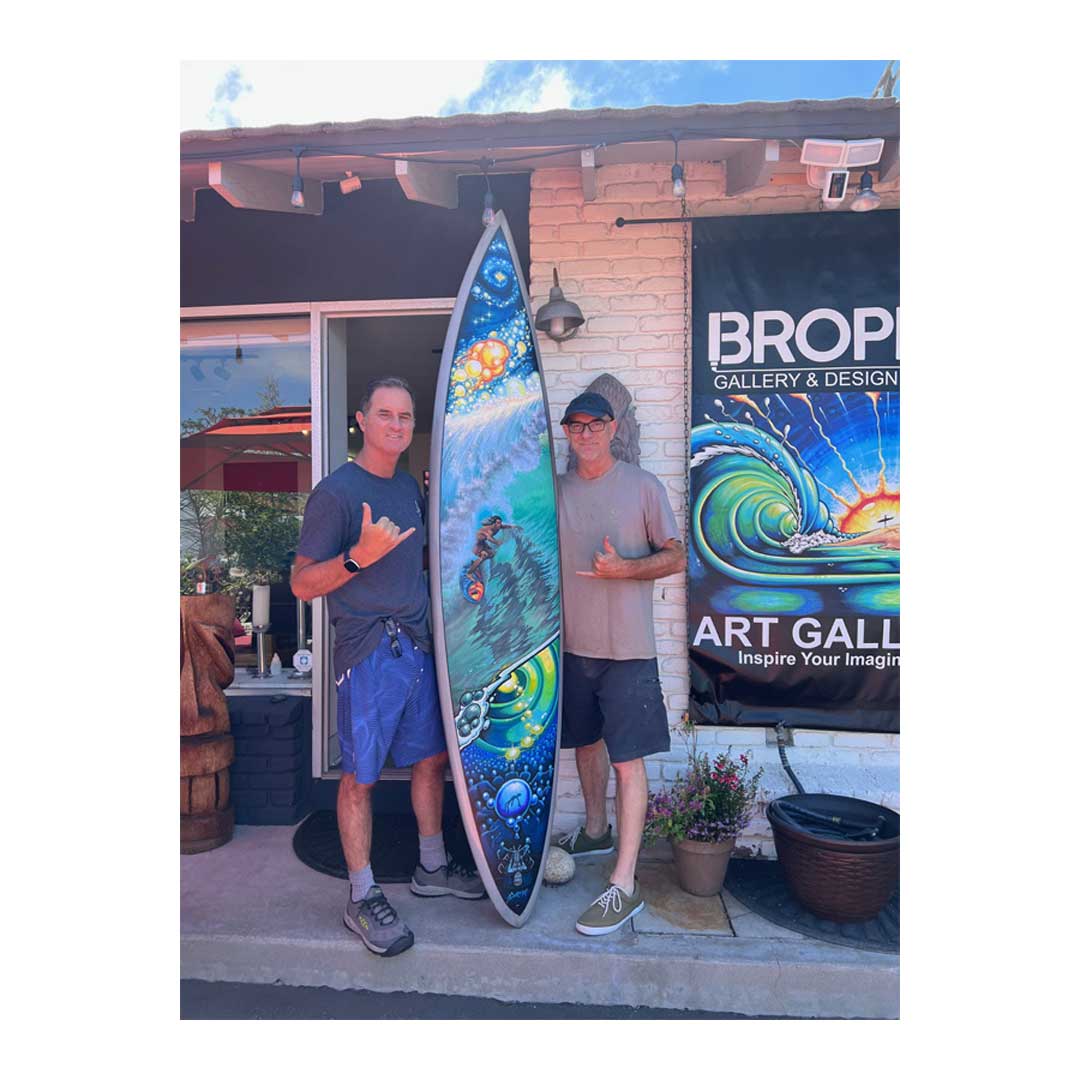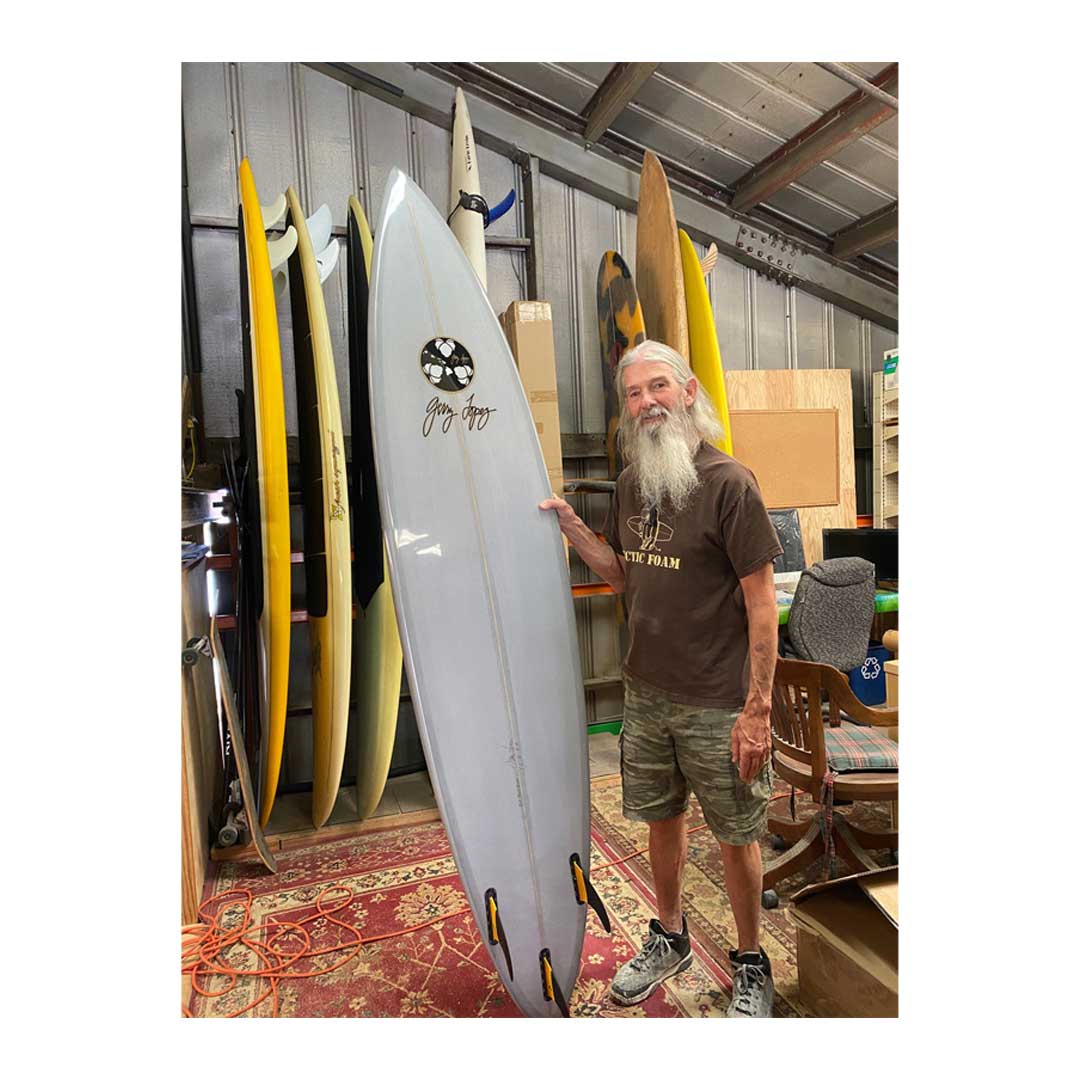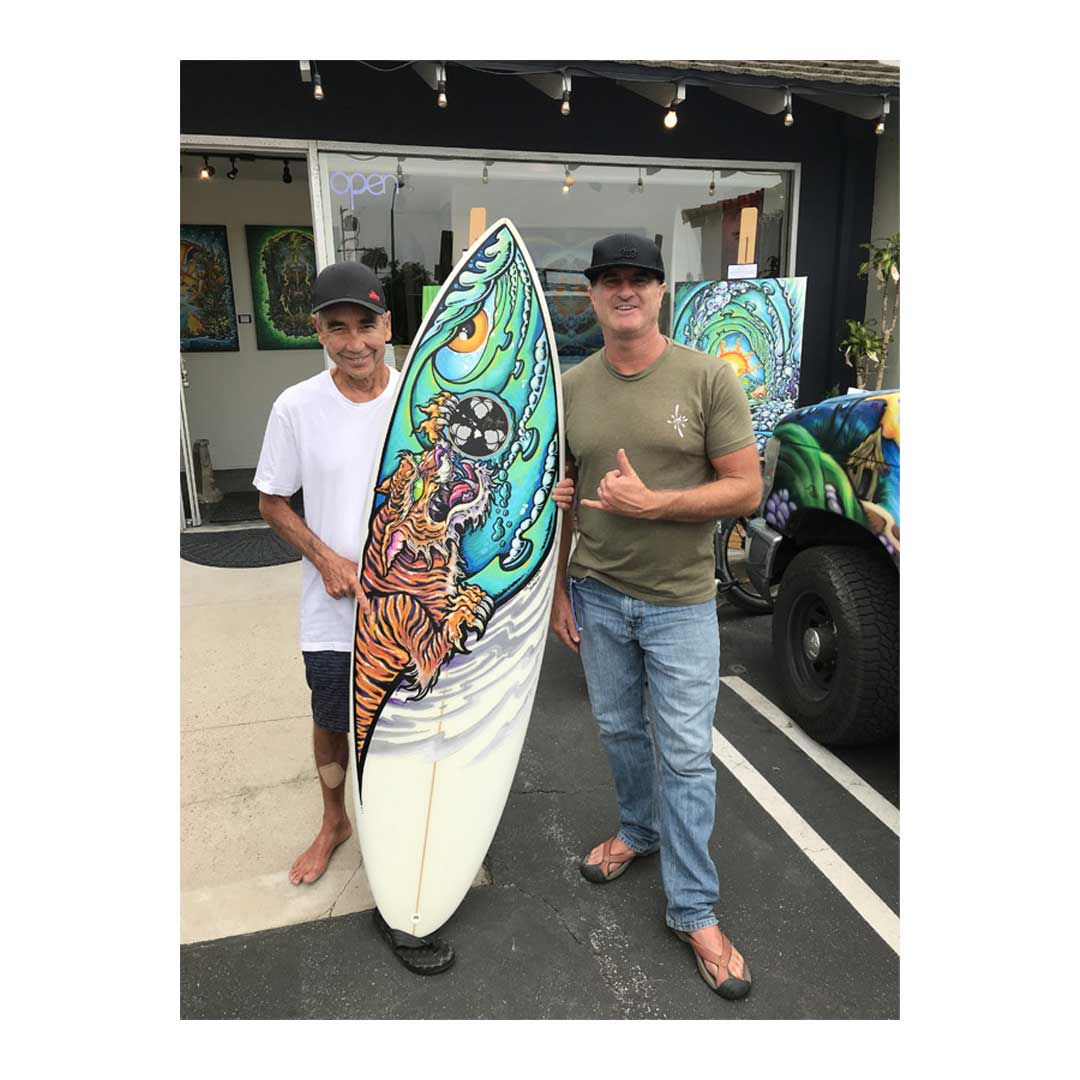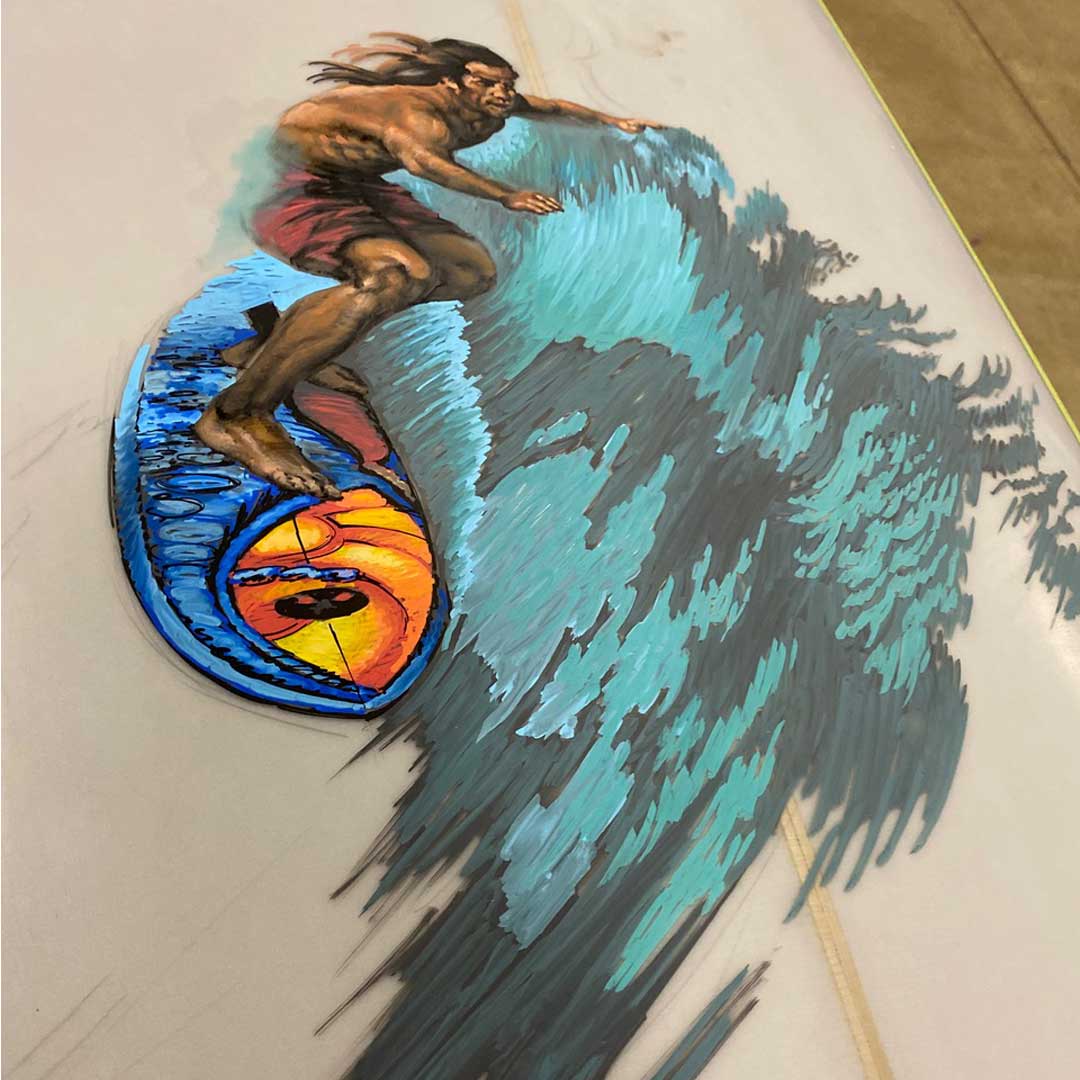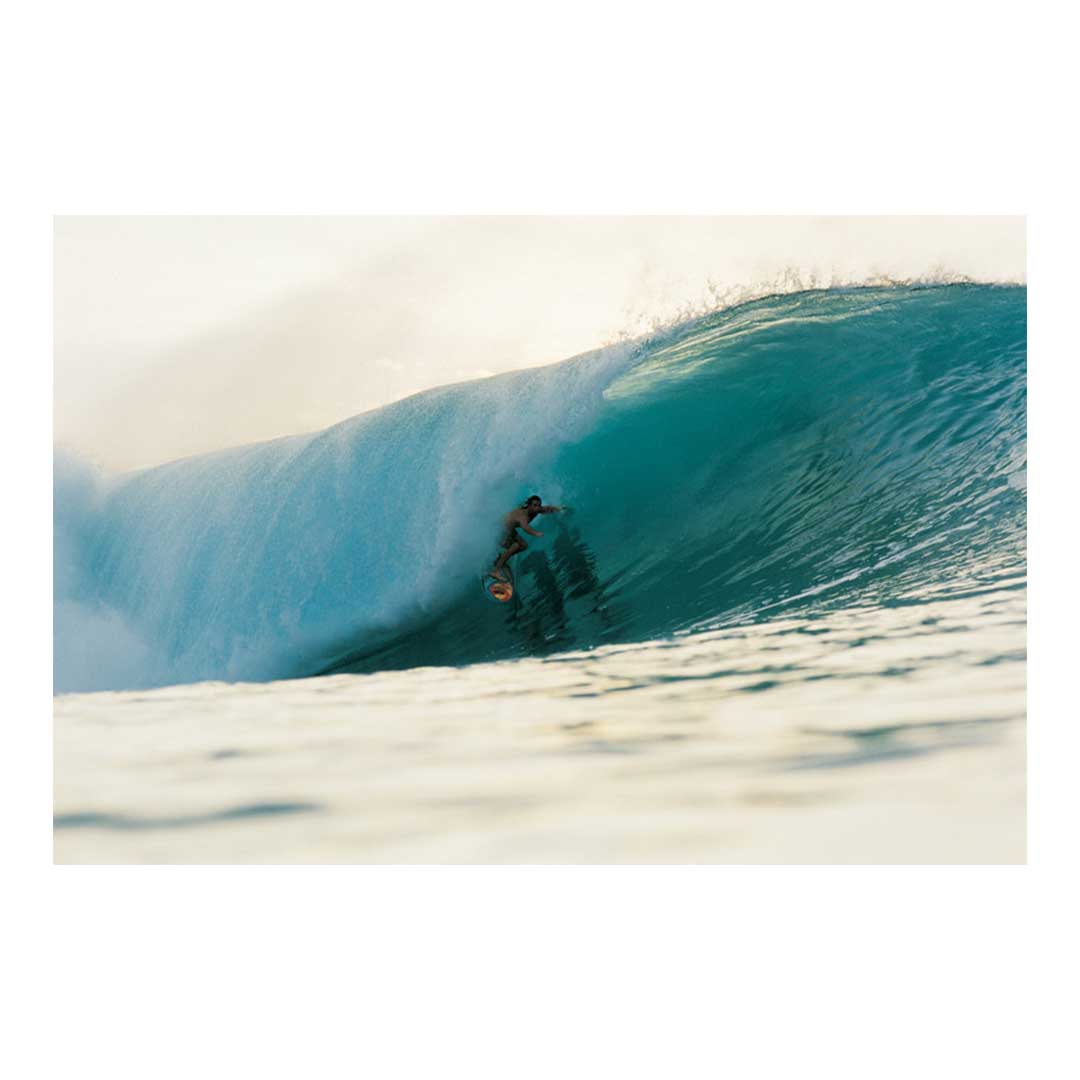 HAVE NO FEAR Drew Brophy Collab with Phil Roberts and Gerry Lopez Pipeline Gun Shaped Surfboard
Sale price

$14,000.00
Regular price
(/)
Free shipping in the contiguous USA on orders over $150.
Pickup available at Brophy Art Gallery
Usually ready in 5+ days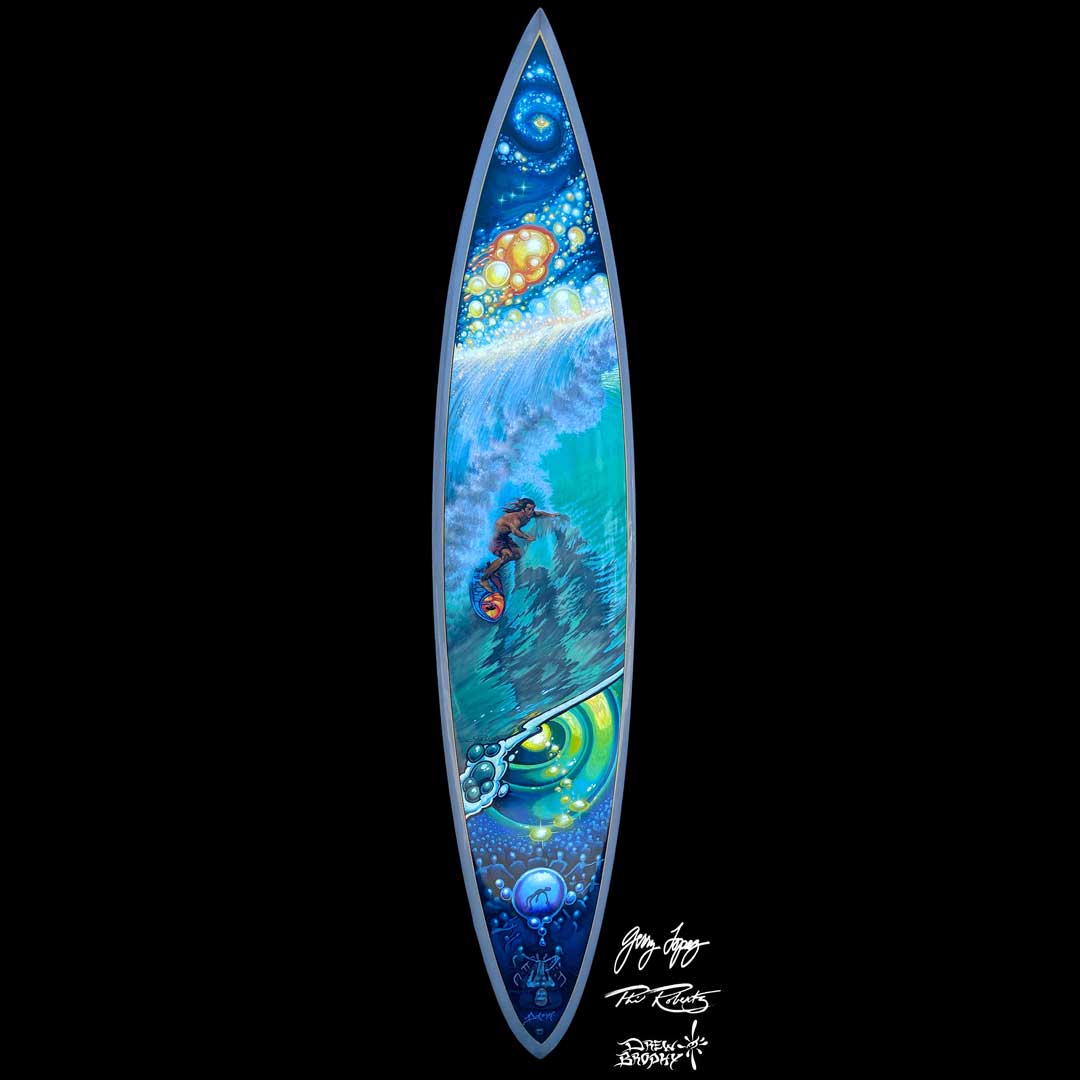 HAVE NO FEAR Drew Brophy Collab with Phil Roberts and Gerry Lopez Pipeline Gun Shaped Surfboard
Brophy Art Gallery
Pickup available, usually ready in 5+ days
139 Avenida Granada
San Clemente CA 92672
United States
+19496788133
HAVE NO FEAR Fine Art Painting by Drew Brophy and Phil Roberts on a surfboard custom shaped by Gerry Lopez and glassed by the late Brad Basham.
Drew's portion of the painting depicts his near-death experience when hospitalized with Covid for nearly 5 months.
New Release!
Drew Brophy is best known for his surfboard paintings; they are acquired by art collectors, celebrities and musicians worldwide. 
Drew started this painting before he was hit was a severe near death case of Covid in November of 2021, and nearly a year later with 10 months of recovery behind him, he finished it.
This collector's Item is a unique collaboration between Drew Brophy, the legendary Gerry Lopez, fine artist Phil Roberts and the late Brad Basham.
Drew says of the inspiration behind this work of art:  "When I think of all the energy and expertise that has gone into this board I am overwhelmed with gratitude.  Gerry, Brad, and Phil have all had huge impacts on my life.
To have this project interrupted by my  journey to the other side must have been my destiny.  The insight passed on to me through the experience is difficult to articulate. 
I instantly felt part of everything and everyone.  We all are pure energy and creative potential, never dying.  
We are all connected to some kind of universal mind exploring every potential for the experience itself.  There is no good or bad, there is no one to save, each unique experience is for the whole. We seek Contrast.  
Have joy when you see it in others, feel inspired when you see someone achieve greatness, and have compassion when you see someone going through something horrible.
Everything is the mind, so be ultra present, strive to tap into this collective mind.  The clarity is liberating and the peace is blissful.  Riding Waves forces you to be ultra present, it is like riding raw energy, the heart beat of the planet.
Surfing Pipeline, famous for its giant tubes is like being one with the Universe, for a brief moment time slows down to crawl and you can see every drop of water falling over you.
The miracle of human body and mind to navigate such immense amounts of energy so beautifully was the closest I had ever come to God.
Until my near death experience, where I was shown that I am not separate from the energy, I am part of it. We all are. You are never alone, there is no darkness, there is nothing to fear.
We are the light."
ABOUT THE COLLABORATION:
Gerry Lopez, known as Mr. Pipeline, is an absolute legend in the surfing world for both shaping and surfing (he's also an actor and author).   There is a long waiting list for a surfboard shaped by Gerry Lopez.
Phil Roberts is the "Da Vinci" of fine art in the surfing world; he has designed and painted the Pipeline Masters Surfboard Trophies for decades.  His work is collected by the who's who of surfing, including Kelly Slater.
Brad Basham is a master craftsman and was the founder of Basham's Surf Shop.  He remains an iconic figure in the San Clemente Surf Community.  He tragically passed away in March 2022, leaving us with a big loss in the surf world.
This surfboard work of art is a collaboration painting between Phil Roberts and Drew Brophy on a Pipeline Gun shaped board by Gerry Lopez, color laminated by Brad Basham.
The center of the painting is a Phil Robert's portrait of Drew Brophy surfing Pipeline (taken from a photo reference of Drew surfing in the late 1990's). 
The top and bottom of the deck was painted by Drew, illustrating Drew's near-death experience when in a 4 week coma, on a ventilator, due to Covid in late 2021 and early 2022.
PLEASE NOTE:  Your purchase online includes the surfboard PLUS shipping fees. Please note: Our shopping cart is not set up to properly estimate shipping.  Any additional shipping costs will be billed separately after we have all of your shipping information. 
OR: You may choose to pick up the artwork from the BROPHY ART GALLERY at 139 Avenida Granada, San Clemente, CA 92672.
If you have any questions about this collector's item, please call Maria Brophy at 949-678-8133.
TO ARRANGE FOR A PICK UP, PLEASE CALL THE GALLERY AT 949-678-8133.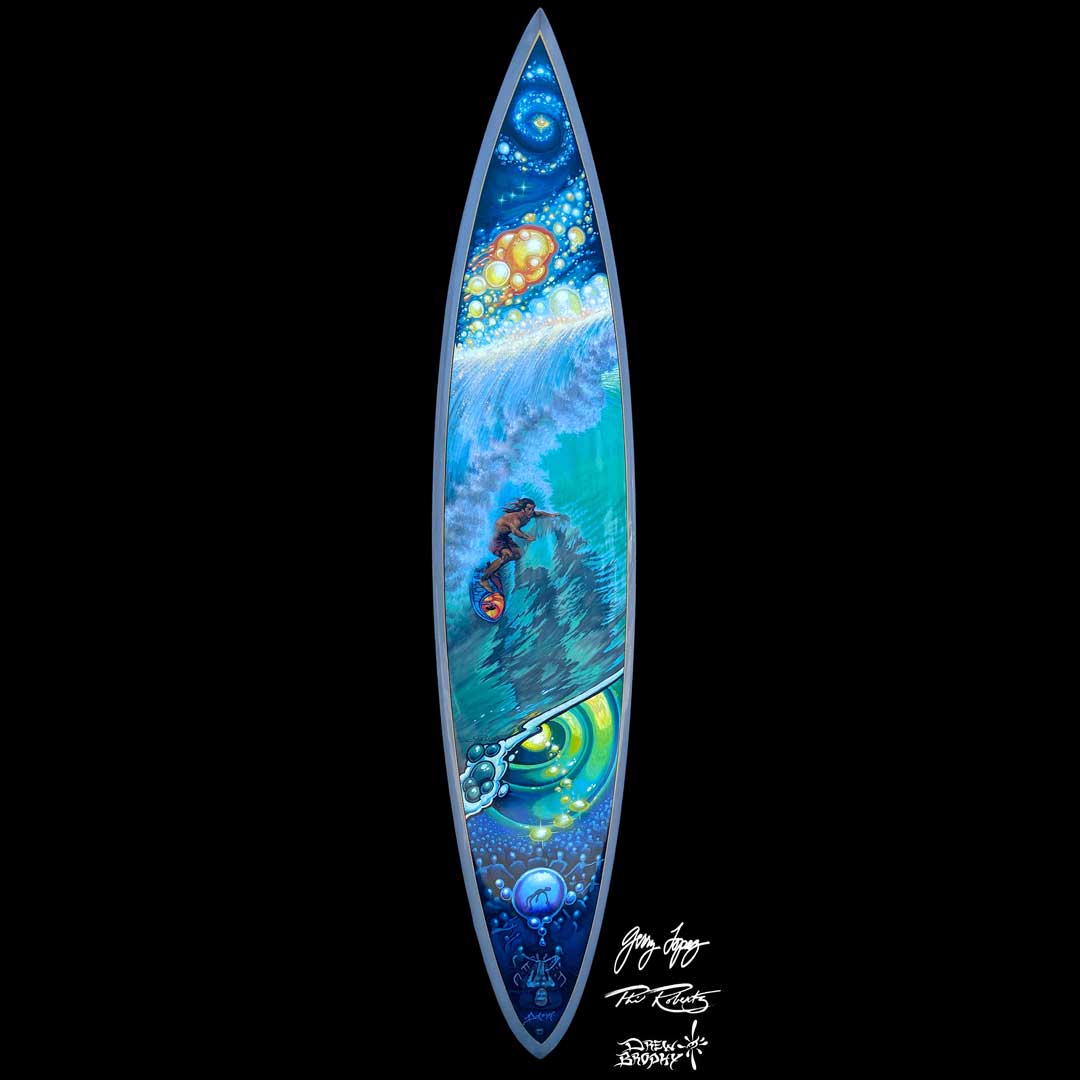 HAVE NO FEAR Drew Brophy Collab with Phil Roberts and Gerry Lopez Pipeline Gun Shaped Surfboard
Sale price

$14,000.00
Regular price
Choose options