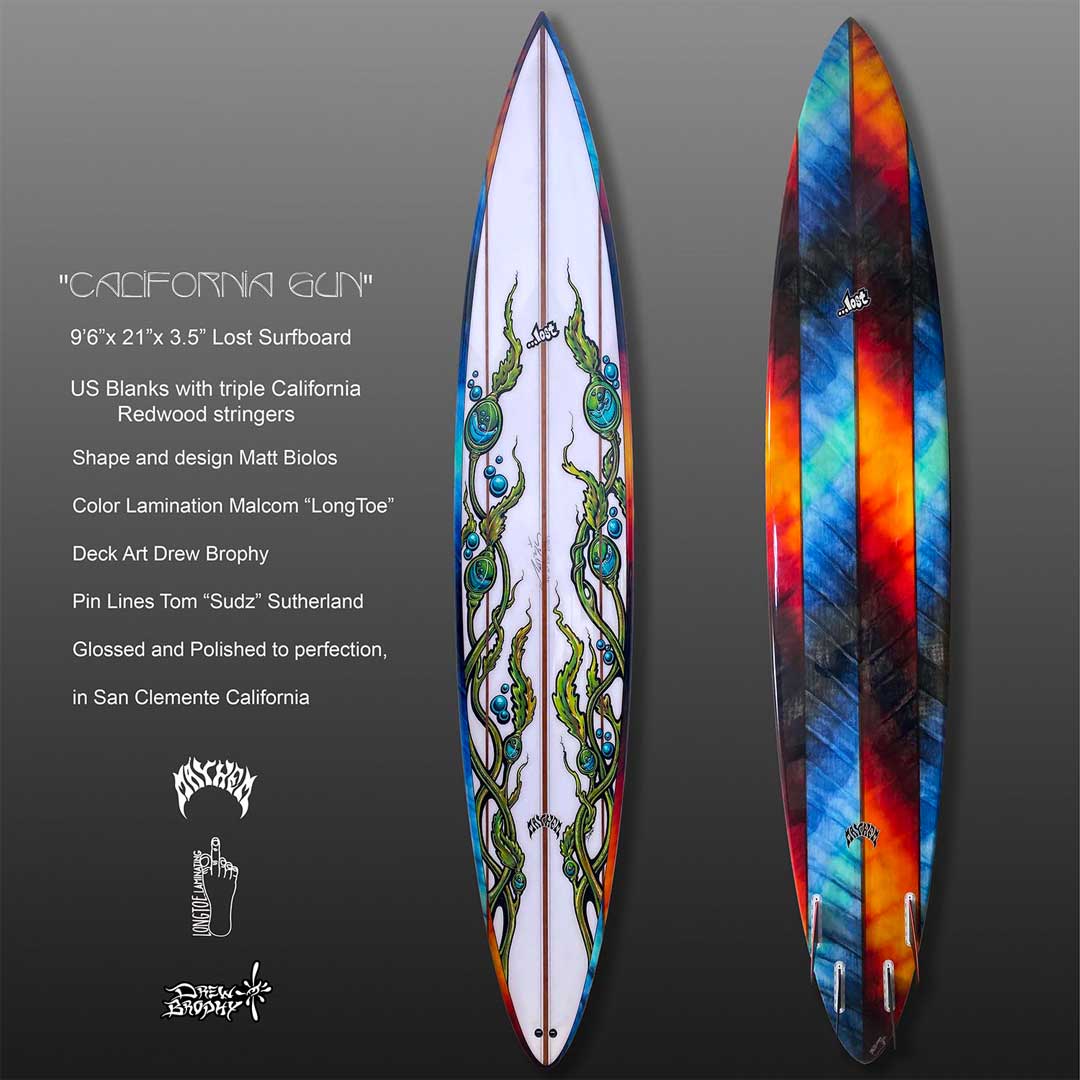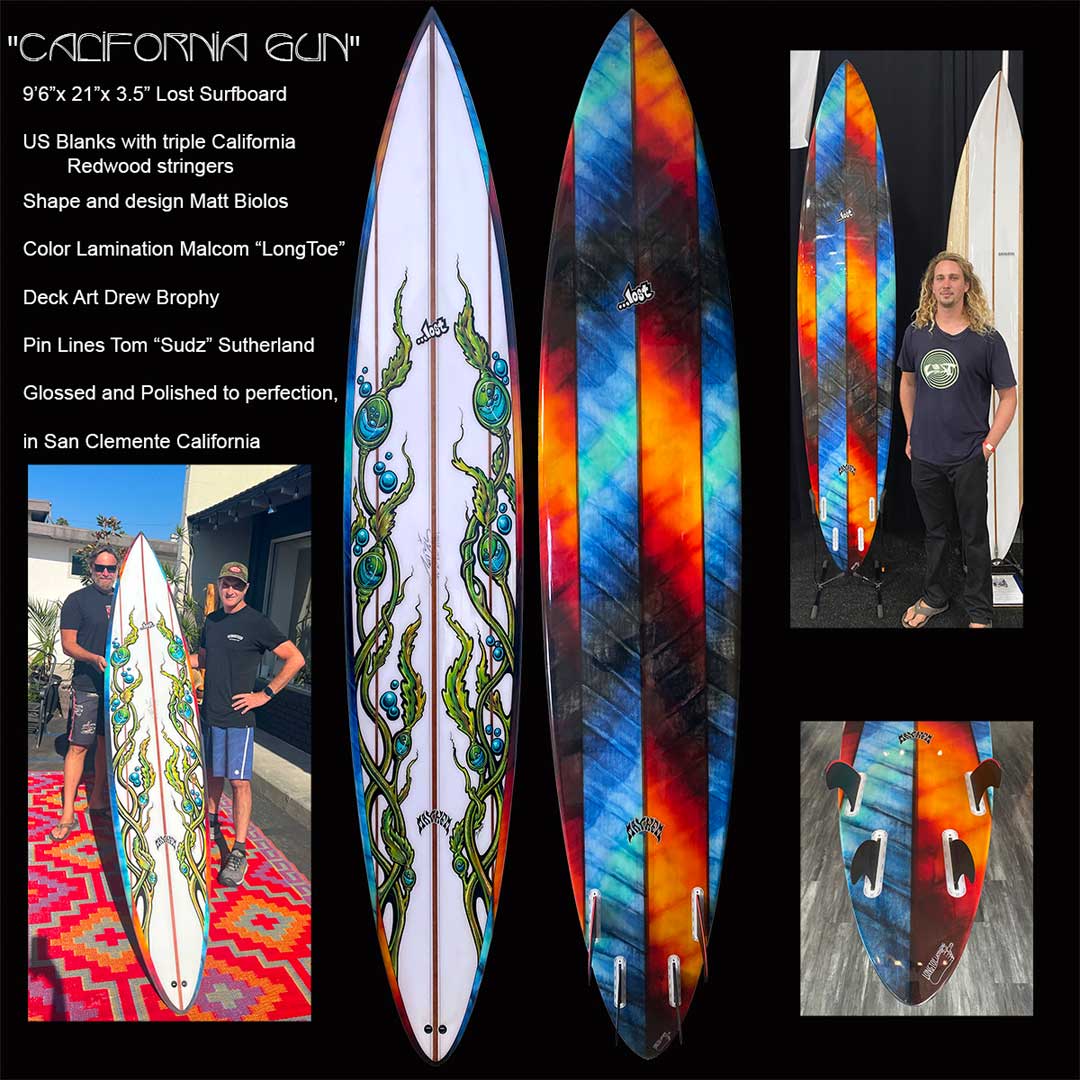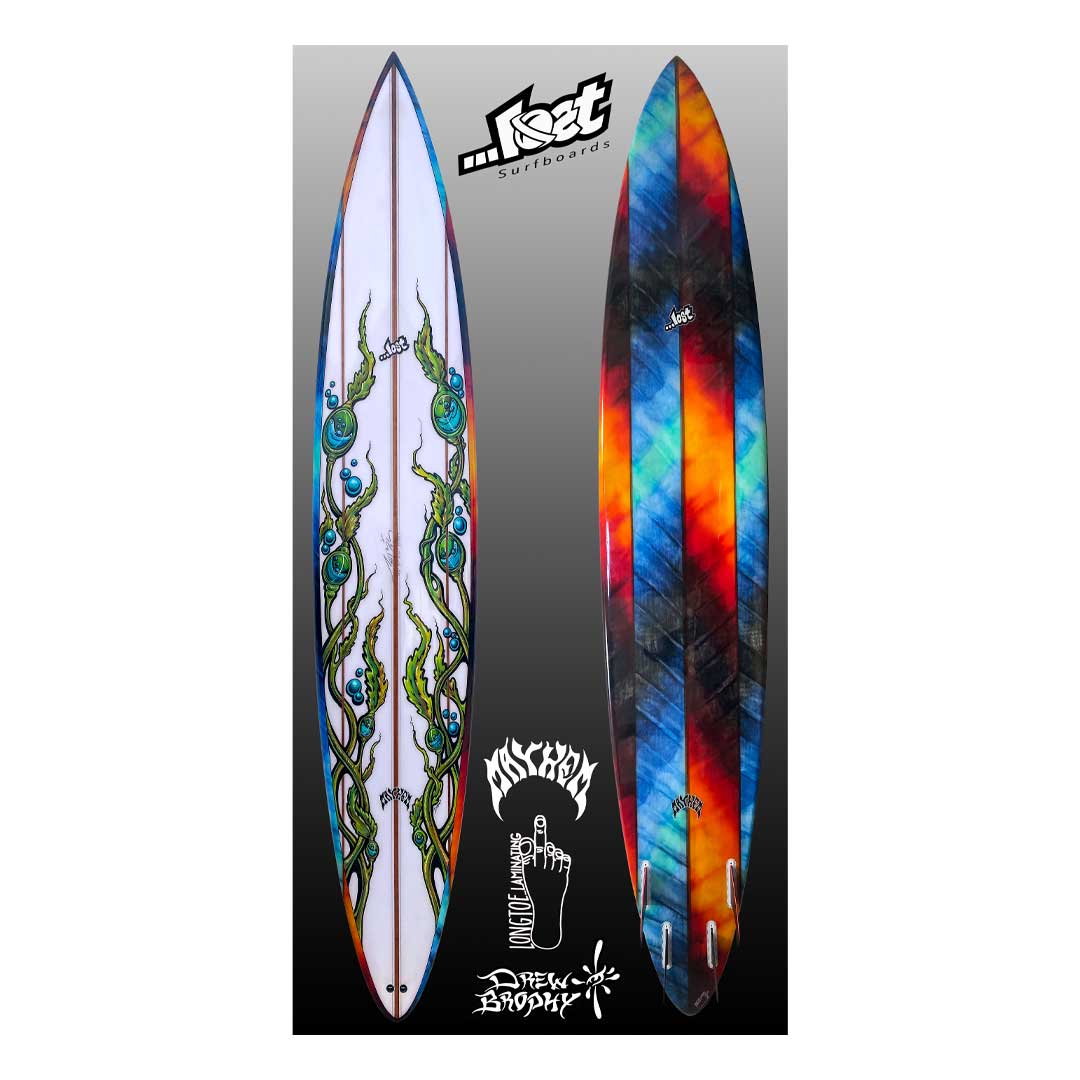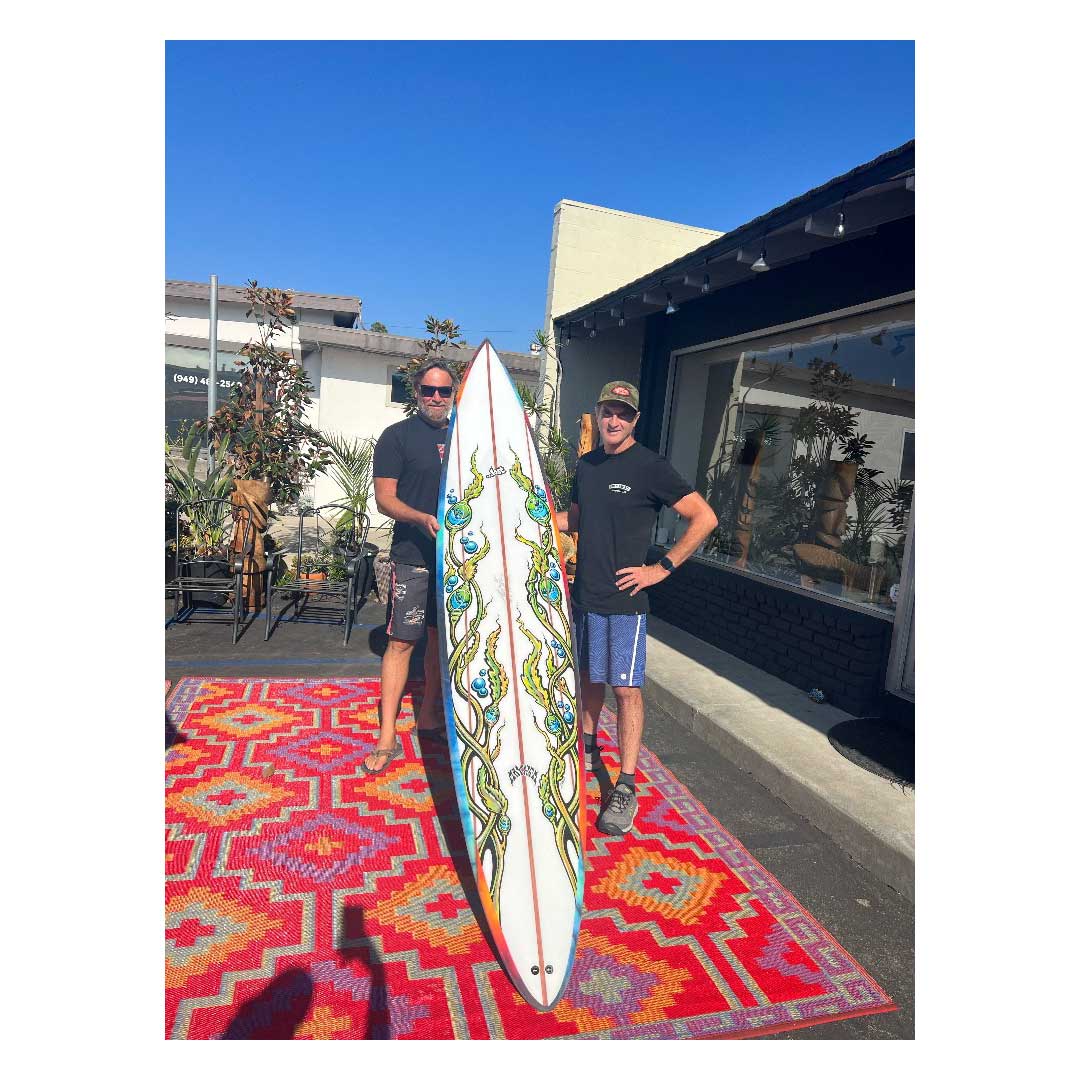 SOLD! CALIFORNIA GUN Drew Brophy Collab with Matt Biolos, Lost Surfboards, Longtoe Color Lam
Sale price

$6,900.00
Regular price
(/)
Free shipping in the contiguous USA on orders over $150.
Pickup currently unavailable at Brophy Art Gallery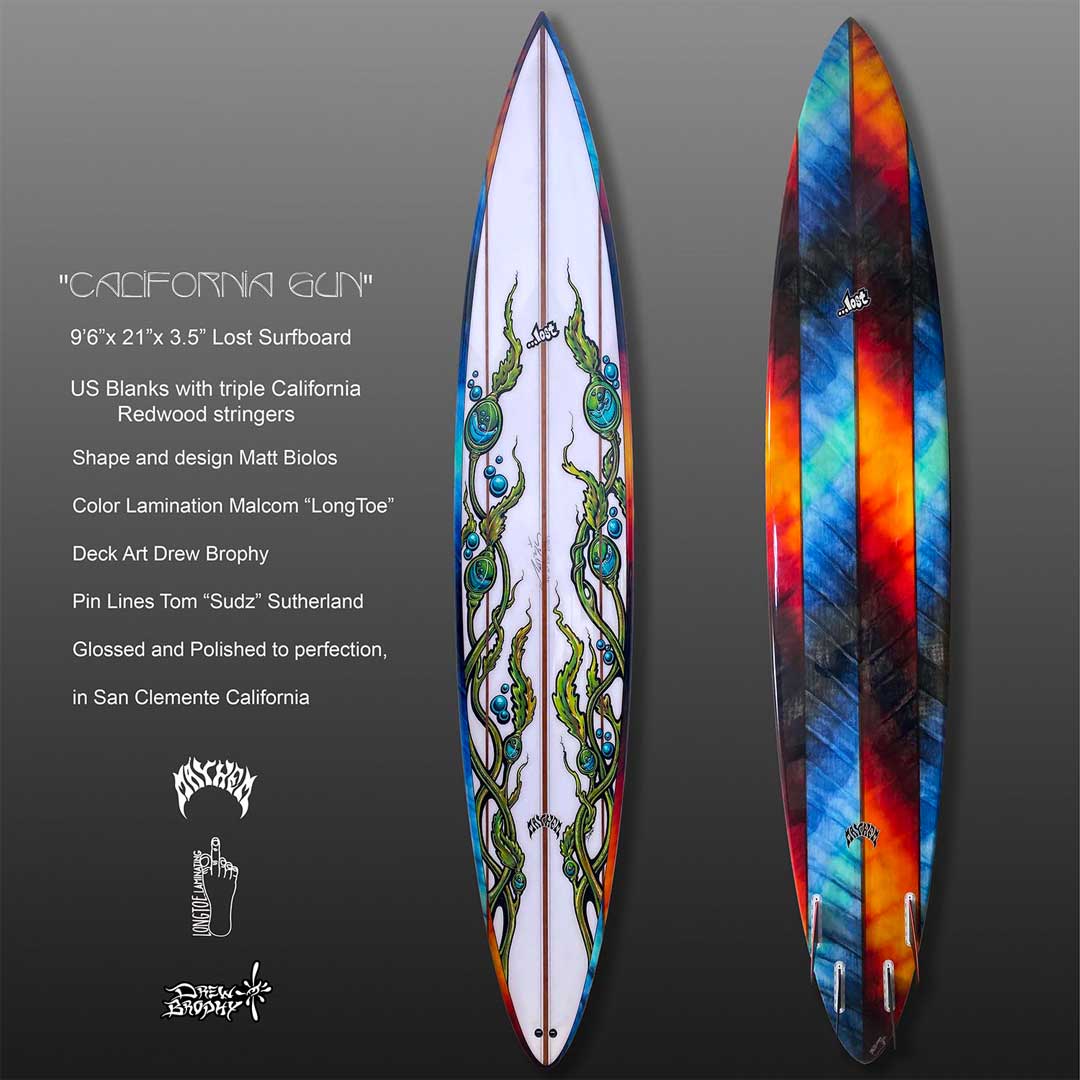 SOLD! CALIFORNIA GUN Drew Brophy Collab with Matt Biolos, Lost Surfboards, Longtoe Color Lam
Brophy Art Gallery
Pickup currently unavailable
139 Avenida Granada
San Clemente CA 92672
United States
+19496788133
CALIFORNIA GUN Collaboration on Lost Surfboard.  Painting by Drew Brophy, shaped by Matt Biolos, incredible color lamination by Long Toe, glossed by Jimmy Nudo, Pinlined by Tom Sutherland and sand and polish by Vick Goddard.
It takes many skilled craftsman to make a surfboard like this one.
This collector's Item is a unique collaboration between Drew Brophy and some of the best craftsman in the surfboard industry.
Drew explains why this artwork is so special  "This surfboard represents three generations of craftsmen, passing down skills to each other through time.
There was time when I was afraid that the skills of building boards were being lost, but now I am so pleased to see the youth stepping up.  
Malcom "LongToe" is a great example of emerging creativity and skill. The color lamination process he devised and used on this surfboard has never been seen before.
It is a true gift to inspire and teach others a skill that can change their lives.
I am forever grateful to all the craftsmen, board builders, and artists, who inspired and took the time to teach me.  I hope they are proud of the men they created and the work that we pass forward."
"CALIFORNIA GUN" DETAILS:
Lost Surfboard Size 9'6" 21" 3.50
US Blanks with triple California Redwood stringers.
Shape and design direction: Matt Biolos
Lamination and color: Malcom "Long Toe". 
Illustration: Drew Brophy
Pin lines: Tom "Suds" Sutherland
Glossed and polished to perfection by Vick Goddard
Made in San Clemente Ca. - USA
NOTE:  DOES NOT INCLUDE SHIPPING:  Your purchase online DOES NOT INCLUDE COSTS FOR SHIPPING.  After you make your purchase, we will send a separate invoice for shipping fees, as shipping larger items must be quoted at the time of purchase, due to constant, fluctuating fuel costs. 
You may choose to pick up the artwork from the BROPHY ART GALLERY at 139 Avenida Granada, San Clemente, CA 92672.
If you have any questions about this collector's item, please text or call Maria Brophy at 949-678-8133 or email info@drewbrophy.com
TO ARRANGE FOR A PICK UP, PLEASE CALL BROPHY ART GALLERY AT 949-678-8133.
Choose options